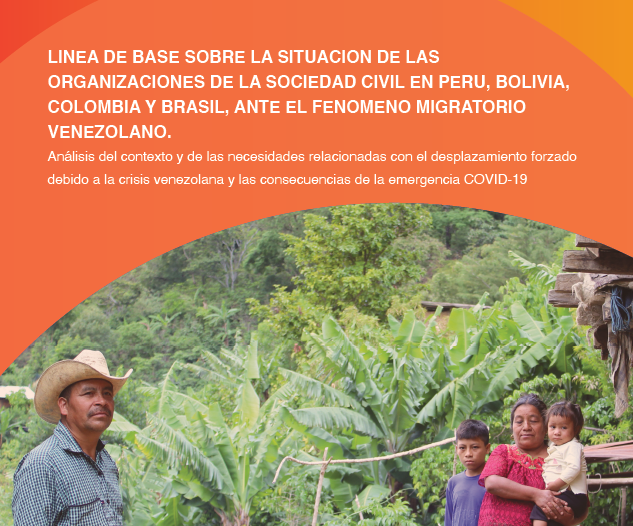 El estudio Linea de Base Sobre la Situacion de las Organizaciones de la Sociedad Civil en Peru, Bolivia, Colombia y Brasil, Ante el Fenomeno Migratorio Venezolano. Análisis del Contexto y de las Necesidades Relacionadas con el Desplazamiento Forzado Debido a la Crisis Venezolana y las Consecuencias de la Emergencia Covid-19 tiene como objetivo evaluar las necesidades de protección de los venezolanos en los países y comunidades de acogida, y las capacidades de respuesta a la crisis humanitaria de las OSC que operan en los 4 países seleccionados (Perú, Bolivia, Brasil y Colombia).
Este análisis será funcional para:
Comprender mejor las brechas en términos de capacidad y conocimiento de las organizaciones y comunidades locales en la región para promover la protección integrada.
Analizar las necesidades de protección relacionadas con la gestión del riesgo de desastres y los medios de subsistencia en contextos urbanos y extraurbanos, acceso a servicios y movilidad.
Estructurar y adaptar la capacitación sobre el CPA (enfoque de protección comunitaria) de acuerdo con las necesidades de las comunidades y organizaciones locales.
Los principales resultados esperados de este estudio son:
• Un análisis de la situación de los 4 países de América del Sur más afectados por la migración venezolana y de la pandemia COVID-19 (Perú,
Colombia, Brasil y Bolivia);
• Al menos 9 organizaciones locales entrevistadas y su capacidad evaluada en áreas relevantes para la implementación de CPA. En la etapa de identificación y construcción de la encuesta, se privilegió la posibilidad de identificar un número más amplio de OSC en los 4 países, para tratar responder a la situación de emergencia prolongada que se vive en América Latina desde marzo del 2020.
*******************************************************************************************************************************************************
Baseline Study of the Civil Society Organizations Capacity in Peru, Bolivia, Colombia, and Brazil facing the Venezuelan Migration Phenomenon. Context and Needs Analysis of Forced Displacement Caused by the Venezuelan Crisis and the Consequences of the COVID-19 Emergency
Venezuelan crisis prompted massive forced displacement of the Venezuelans to their neighbouring Latin American countries. The objective of this baseline study is to assess the protection needs of Venezuelans in host countries and communities, and the capacity of civil society organizations (CSOs) operating in 4 selected countries – Peru, Bolivia, Brazil, and Colombia – to respond to the humanitarian crisis.
This analysis further could be used to:
Enhance the understanding of capacity and knowledge gaps of local organizations and communities in the region to promote integrated protection.
Analyze protection needs related to disaster risk management and livelihoods in urban and sub-urban contexts, and access to services and mobility.
Structure and adapt the CPA (Community Protection Approach) training to the local organizations and communities needs.
The main expected results of this study are:
The analysis of the situation of four South American countries most affected by Venezuelan migration and the COVID-19 pandemic – Peru, Colombia, Brazil, and Bolivia.
At least 9 local organizations interviewed and their capacity assessed in relevant areas for the implementation of the CPA.
In the identification and survey construction stage, there was a possibility of identifying a higher number of Civil Society Organizations in the four countries trying to respond to the prolonged emergency situation in Latin America lasting since March 2020. 136 organizations were mapped in the first part of the study and 42 out of them participated in the second part of the questionnaire.
This study was conducted under the EU Aid volunteers' capacity building project INPLACE. Responding to Forced Displacement in Latin America through Capacity building and Certification on EU Aid Volunteers.
You can read the study here: INPLACE. Baseline Study in Latin America