July 8, 2021, WeWorld took part in the EADI (European Association of Development Research and Training Institutes) conference on Solidarity, Peace, and Social Justice, which was an opportunity for both researchers and practitioners to come together to share findings and ideas, and engage in further discussions of global development issues. The thematic focus of the conference reminded that any process of social change necessitates all involved to cultivate solidarity; the values of peace and social justice can become transformative when expressed with and through solidarity.
WeWorld participated in a harvest panel discussion on the Protracted Crisis and the Humanitarian-Development Nexus session. This panel focused on research and case studies in which empirical data and evidence can support a theory-driven approach in the operationalization of the HD Nexus, especially in protracted crises settings. On this panel WeWorld, in collaboration with the University of Pavia, presented a case study from the occupied Palestinian territory, where the Community Protection Approach (CPA) implementation, arising from a humanitarian response to the protracted crisis in the oPt, facilitated the grounds for a HD Nexus operationalization. The framework by which the CPA operates enabled the development of a joint context analysis and encouraged data sharing,  for the implementation of joint programming in the same area among local and international actors, including local communities, the authorities, as well as international coordinating agencies and donors. It demonstrated that the CPA can be a potential instrument to operationalize the Nexus. Developed as a theory-driven approach, the implementation of the CPA demonstrates its effectiveness through continuous development and external validation. The case of the CPA in the oPt is based on the analysis of qualitative and quantitative data collected throughout the 8 years of its implementation in over 150 communities.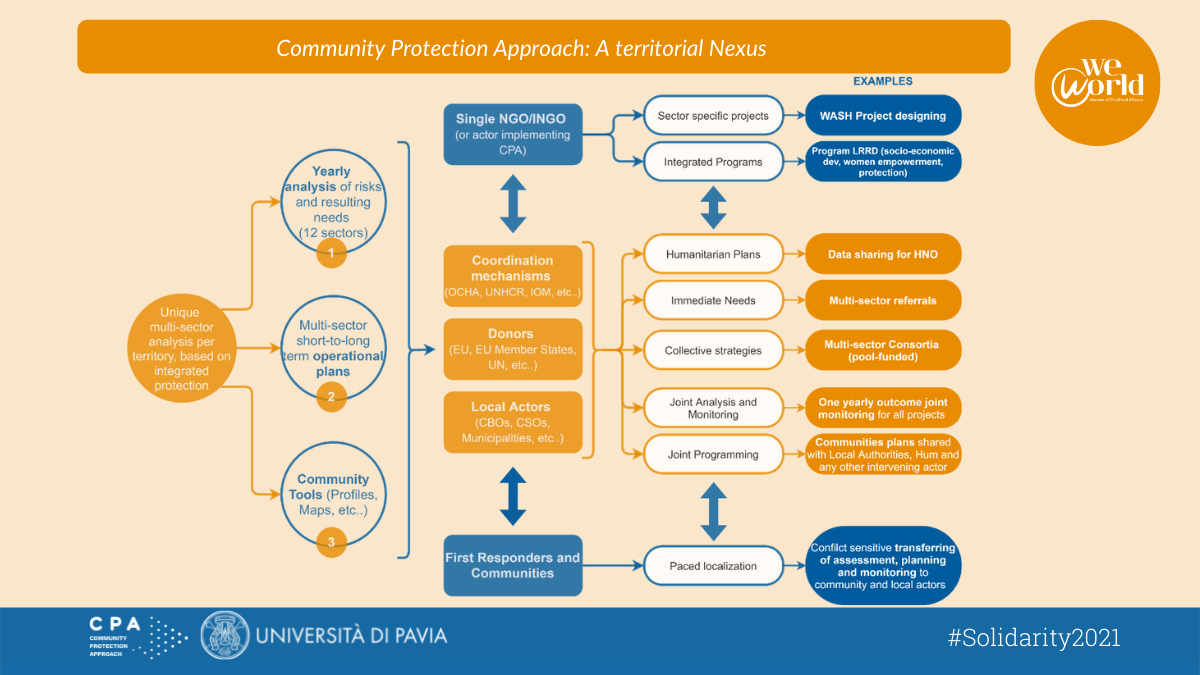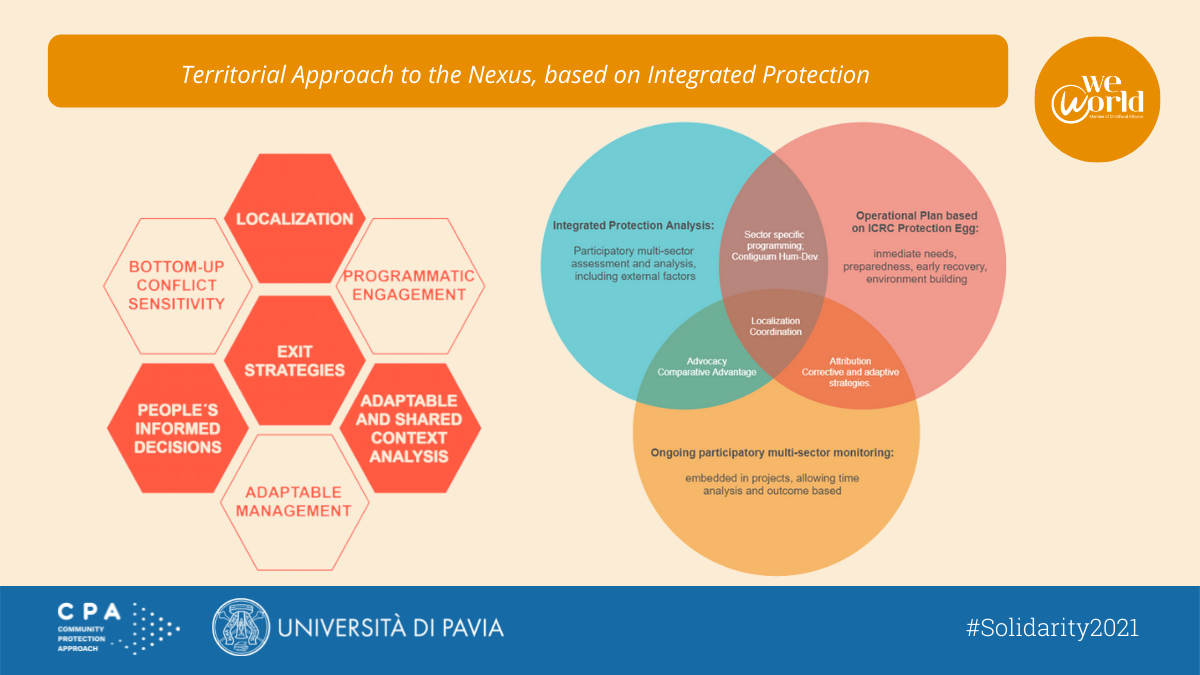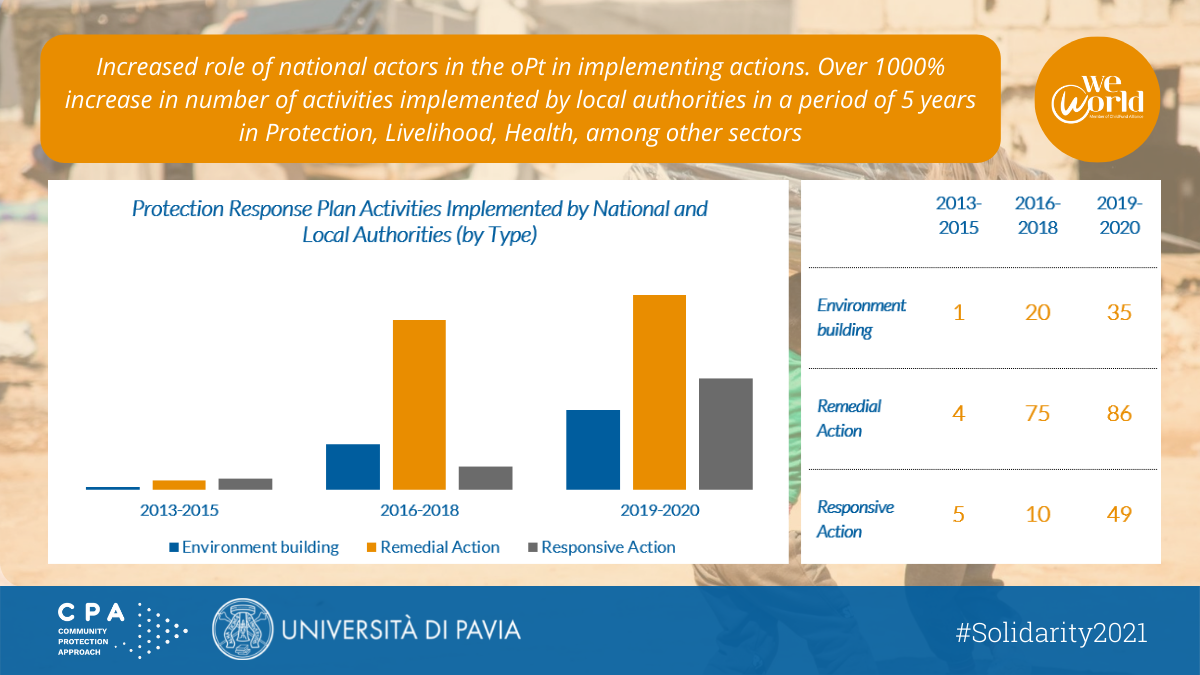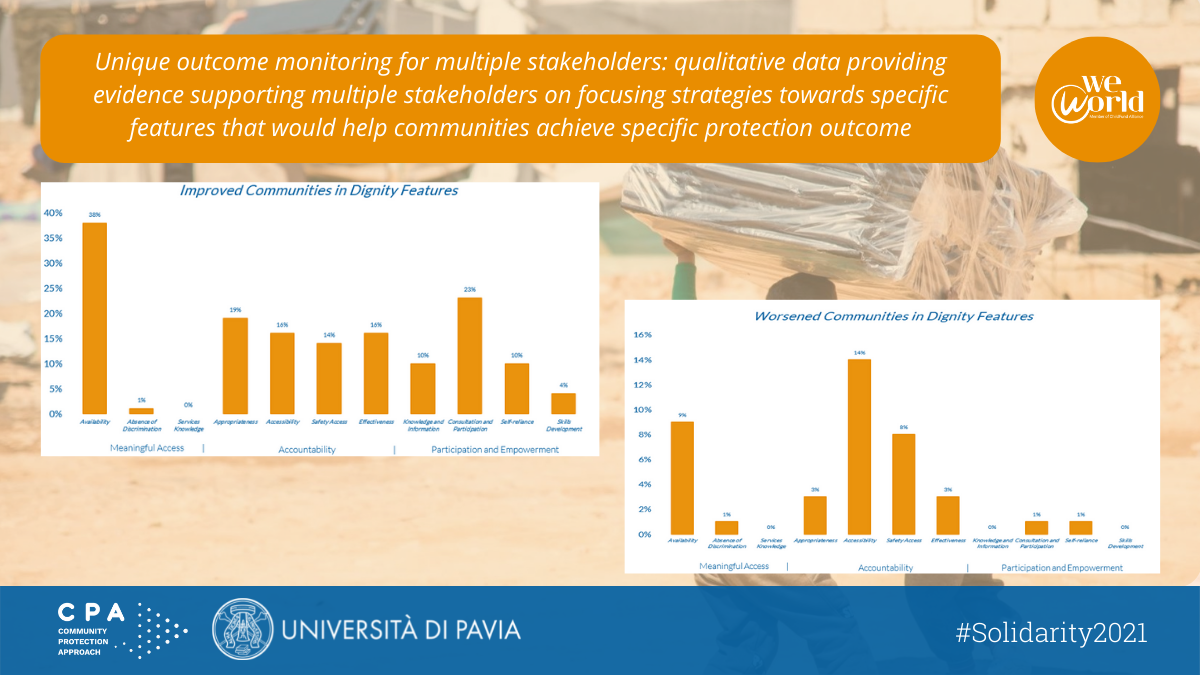 During the harvest panel, WeWorld drew discussants' attention on how the CPA actually became the basis of joint-analysis and joint programming, providing operational mechanisms to involve multiple actors to work across the Nexus. It has also demonstrated how WeWorld and its partners have provided yearly monitoring trends benchmarked to international standards, through the design and implementation of short- to long-term plans within a multi-sectoral framework, utilizing the same data collection and analysis process. The CPA also presented adaptable and flexible tools for communities and local actors to mobilize support, strategies, and responses.