Accountability to Affected Populations
WeWorld is committed to the systematic and active inclusion of affected population needs, concerns, capacities in their diversity, generating the space and the best possible response at all staff and activity level in all strategies, plans and programmes.
The integration of Accountability to Affected Population (AAP) in all interventions allows WeWorld to refer and implement to commitments and mechanisms to ensure that communities and rights-holders are meaningfully and continuously involved in decisions that directly affect their access to safe and dignified lives, especially vulnerable groups, including Internally Displaced Persons (IDPs), migrants, women, and children.
Accountability, as defined by UNHCR, refers to "the responsible use of power by humanitarian actors, combined with effective and quality programming that recognizes a community of concern's dignity, capacity, and ability to be independent", and represents a pillar of any intervention, strategy, project and programme lead by WeWorld.
Our Mandate
WeWorld endorses the five principles and commitments established by the Inter-Agency Standing Committee (IASC) for the integration of AAP into the policies, activities, strategies, projects, and programmes.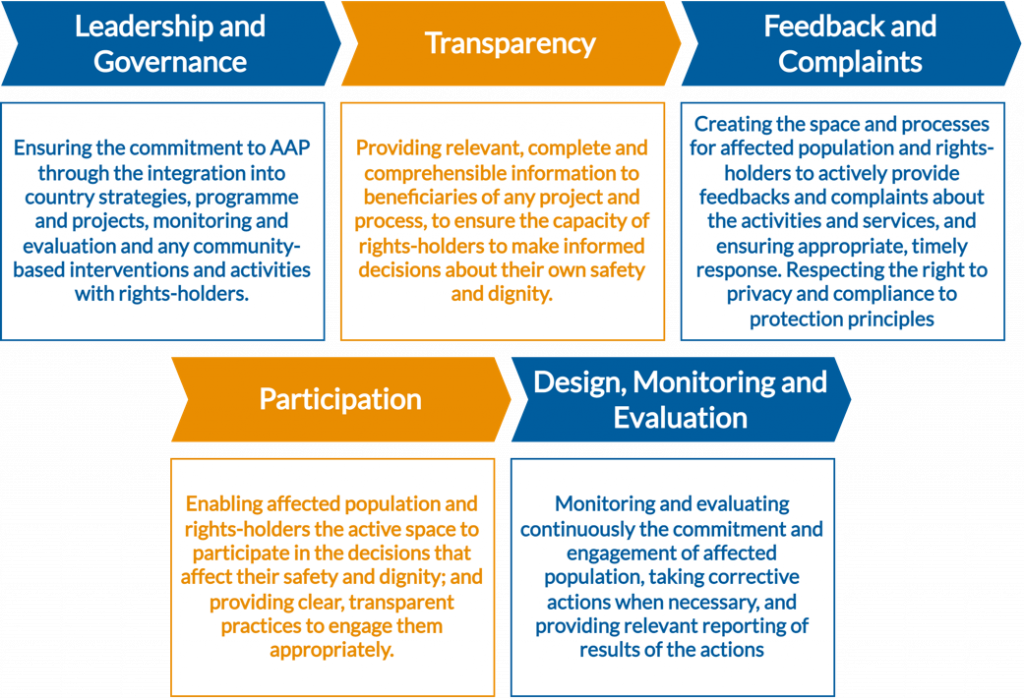 WeWorld's Underlying Principles guiding integration of AAP
The following principles guide WeWorld's systematic approach into ensuring the integration of Accountability to Affected Population in all strategies, programmes, projects, and activities, across all missions and staff.
Protection from Sexual Exploitation, Abuse and Harrassment (PSEAH)
WeWorld strongly believes that everyone has the right to live their lives without fear from sexual abuse, exploitation, and harassment (SEAH). The policy has been developed to ensure that rights-holders, community members, employees and representatives alike are protected from any form of SEAH. The purpose of the policy is to steer the organization, its employees, and representatives to create and promote safe working environments by preventing SEAH.
Click here to read and download the Protection from Sexual Exploitation, Abuse and Harrassment (PSEAH) Policy
Code of Conduct
WeWorld's Code of Ethics and Conduct outlines, explains, and shares the set of accepted and recognized ethical values, which guide and steer the actions of the organization when performing its activities, including the identification of rights, duties and responsibilities of the subjects who establish a relationship with it for the purpose of implementing its activities.
Click here to read and download the Code of Ethics and Conduct
Child Safeguarding Policy
WeWorld-GVC is committed to fostering the well-being and development of children, primary group of the Organisation operations and 'actors of change' in every community for a fairer and more inclusive world. The purpose of this policy is to steer the Organisation and its personnel in promoting children's welfare and protecting them from harm. The policy supports to create and promote a safe environment for children.
Click here to read and download the Child Safeguarding Policy
Data Protection
WeWorld's Data Protection Protocol serves as a guide to the persons who will have access to personal data held by, considering the fundamental right of the right-holders to keep their information confidential. This protocol applies to all personal data held by WeWorld. Aggregated and anonymized data, therefore, does not fall within the scope of this protocol. Compliance with this protocol is mandatory for all WeWorld staff. The protocol continues to apply in case personal data is transferred to third parties, including but not limited to local and international Partner NGOs.
Community Protection Approach (CPA)
The Community Protection Approach (CPA) comprises a context-specific process of assessment and analysis to determine immediate patterns of risk of forcible transfer and analyse the degree of the community's resilience against such protection risks over year circles. This process coincides within programme and project cycles for local and international actors.