The Community Protection Approach (CPA) is a community engagement and empowerment methodology. 
In 2013, an initial model was designed as part of GVC operations in the Occupied Palestinian Territory. Following the application of a participatory-action research approach, it is now at its third release and currently being implemented in the oPt and Lebanon, and piloted in Central America and other WeWorld-GVC missions.
This product is the first of a series of infographics on the CPA: here you can have a brief look at its objectives, components and innovative aspects in "THE CPA"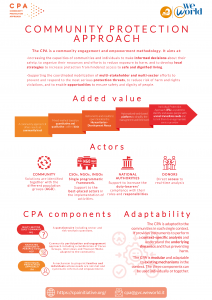 More infographics on different aspects of this innovative initiative will be published soon!
If you are interested in knowing more about our work please contact us at cpa@gvc.weworld.it.