WeWorld-GVC has developed a CPA web-based Platform to automate a set of complex quantitative and qualitative techniques used in the analysis involved in the methodology. The aim is to simplify field implementation while ensuring exactness in analysis systematization.
The platform is customizable to grant tailored access to different actors and ensure protection standards in data and information sharing.
This product is part of a series of infographics on the CPA: here you can have a brief look at the characteristics and the added value of the CPA Platform for data collection and analysis.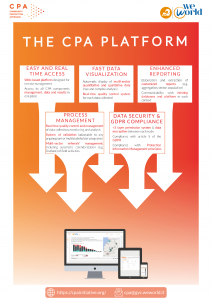 Existing infographics on the CPA:
More infographics on different aspects of this innovative initiative will be published soon!
If you are interested in knowing more about our work please contact us at cpa@gvc.weworld.it.